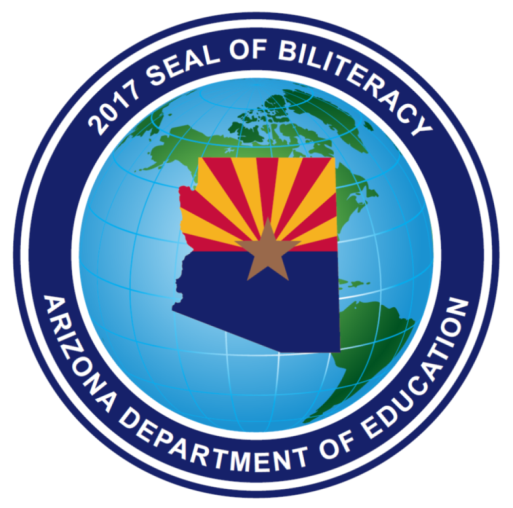 Osborn students have the opportunity to earn the Seal of Biliteracy upon high school graduation. The Arizona Seal of Biliteracy is intended to recognize students who graduate from a school and who have attained a high level of proficiency in one or more languages in addition to English. The seal is placed on the student's diploma and noted on the transcript. It encourages students to pursue biliteracy, honors the skills students attain, and can be evidence of skills that are attractive to future employers and college admissions offices.

Students earn the Seal of Biliteracy their Senior year of high school. In order to earn the Seal, they must demonstrate proficiency in both English and a second language (Arabic, Chinese, French, German, or Spanish). The seal requires students to show high levels of proficiency in English by successfully completing all English requirements for graduation with an overall grade point average in those classes of 2.0 or higher on a 4.0 scale. Students must also show high levels of proficiency in English by receiving a passing score in English on the state assessment (AASA). English Second Language Learners must obtain a score of Proficient or Higher on the AZELLA Assessment.

For more information, please visit the Arizona Department of Education.
Los estudiantes de Osborn tienen la oportunidad de obtener el Sello de Bialfabetismo al graduarse de la escuela secundaria. El Sello de Alfabetización Bilingüe de Arizona tiene por objeto reconocer a los estudiantes que se gradúan de una escuela y que han alcanzado un alto nivel de competencia en uno o más idiomas además del inglés. El sello se coloca en el diploma del estudiante y se anota en el expediente académico. Anima a los estudiantes a perseguir la alfabetización bilateral, honra las habilidades que los estudiantes alcanzan y puede ser una prueba de las habilidades que son atractivas para los futuros empleadores y las oficinas de admisión de la universidad.

Los estudiantes obtienen el Sello de Alfabetización Bilingüe en el último año de la escuela secundaria. Para obtenerlo, deben demostrar que dominan tanto el inglés como una segunda lengua (árabe, chino, francés, alemán o español). El sello requiere que los estudiantes demuestren altos niveles de competencia en inglés completando con éxito todos los requisitos de inglés para la graduación con un promedio general de calificaciones en esas clases de 2.0 o más en una escala de 4.0. Los estudiantes también deben mostrar altos niveles de competencia en inglés recibiendo una puntuación de aprobación en inglés en la evaluación estatal (AASA). Los estudiantes que aprenden el inglés como segunda lengua deben obtener una puntuación de "Proficiente" o superior en la evaluación AZELLA.

Para más información, por favor visite el Departamento de Educación de Arizona.